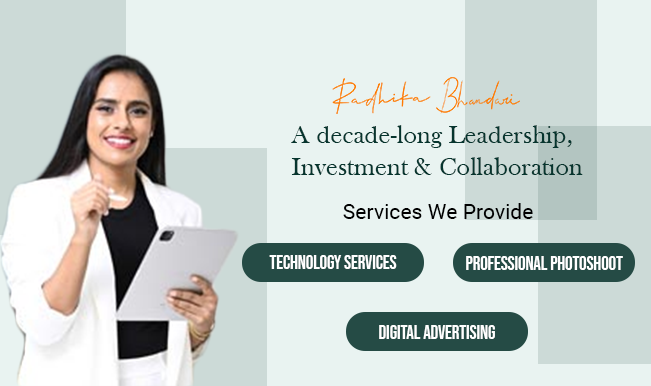 Digital Advertising
Digital advertising, also known as online advertising, is a form of marketing to promote a brand, product, or service through digital channels. Digital advertising provides more and more options for companies to communicate with the target audience and market in real-time. Through advertising collecting data, digital advertising designs digital ads that drive traffic to websites, generate leads, build awareness, connect with target audiences, and ultimately generate sales with advertising.
We run the campaign, target a specific audience, and achieve a particular goal through digital ads. An advertisement appears online or on digital platforms such as search engines, social media, websites, professional media, mobile apps, and emails. The term digital advertising refers to marketing through online channels, including websites, streaming content, and video. This digital advertising method allows you to reach the right audience at the right time for Radhika Bhandari.
Content and Media Strategy
This Content strategy helps you own the customer journey by creating content and media relevant to your relevant customer, offering the information they need and knowing them about their brand. Content media strategy allows you to share helpful information with customers, allowing them to connect with your brand.
At Virtual Pebbles, we understand your target audience before creating a plan to help you achieve your social networking objectives. Using the accurate, real-world facts from your eCommerce platform and website. Once we have a better grasp of your target audience, it's much easier to prioritise the media channels on which your business should actively provide content.
Digital Presence
Digital presence is how your business appears digitally. Digital presence refers to a combination of online marketing channels and methods, including websites, social media, pay-per-click advertising (PPC), search engine optimisation and online business directories. Using all these channels, you can create a potential marketing mix to help you reach your target audience and achieve your business goals.
If you're looking for a full-service digital marketing company to help you implement your digital presence, virtual pebbles can help you to build your business. With our all-inclusive digital marketing services, you'll be able to profit from the outcomes that matter most to your organisation.
Choose the best digital advertising agency in Ahmedabad and Jaipur to help your brand succeed with its advertising and business decisions. Our all-inclusive digital marketing services will most benefit your organisation.
Programmatic Marketing
Programmatic marketing is a strategy that uses paid media to advertise products and services. Programmatic marketing offers tailored opportunities that allow advertisers to purchase digital ads based on impressions rather than paying a fixed price in advance. Programmatic marketing gives more flexibility, given that they can buy minimal impressions or a limited sum of money while accessing content from various sellers at a lower cost.
We are a digital branding agency, and we use a method that combines advertising, strategy, and research to create distinctive brand identities. At Virtual Pebbles, we help clients build powerful online presences by offering digital branding services as a digital branding firm. We are here to help your company or organization achieve the goals and targets for the Radhika Bhandari website.