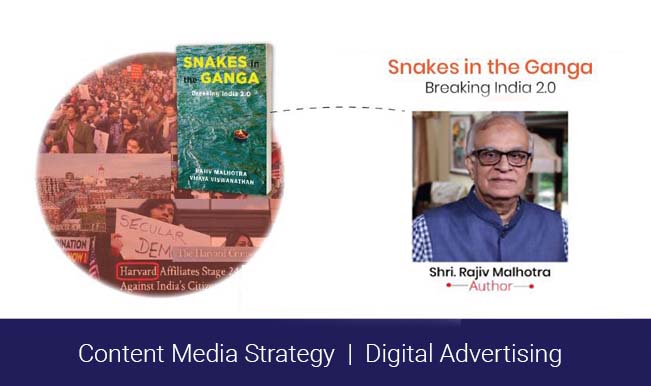 Date – 2022
Services – Content and Media Strategy, Print Media & Book Selling Campaigns
Website – https://www.rajivmalhotra.com/
Rajiv Malhotra has written several number-one bestsellers. The History of Indian Science & Technology is a 14-volume series that Infinity Foundation has also released. He is an associate of the Advisory Board of the Indian Institute of Advanced Studies, Shimla, and he is also the Chairman of the Board of Governors of the Center for Indic Studies at the University of Massachusetts, Dartmouth.
He founded the non-profit Infinity Foundation in Princeton, USA, and works there full-time as a historian, social scientist, and mental scientist studying civilisations. More than 400 grants have been awarded by the Infinity Foundation for efforts in research, education, and the community. This involves giving to important US institutions strategically to assist ground-breaking initiatives. The organisation has supported and hosted some of the first and most significant international conferences in India on subjects like comparative religion and Indian mind sciences.
How we drove a larger audience on Rajiv Malhotra's new book 'Snakes in The Ganga 2.0' launch:
Content and Media Strategy
A marketing tactic known as "content and media strategy" is producing and sharing helpful material online with proper execution strategy planning. To draw your audience to you is the aim. It's referred to as inbound marketing since you use it to draw your audience to you. In contrast, outbound marketing entails contacting your target market. You look them up on the internet.
While outbound marketing drives readers in, inbound marketing draws them in. Even when you've done background research to draw readers in, effective inbound marketing will make readers feel as though they've just discovered a new book. However, because you're interrupting them with an advertisement, outbound marketing feels more disruptive.
Social media advertising on platforms like Facebook, Instagram, or LinkedIn is a crucial tool for internet marketing when it comes to growing your audience. We mainly targeted folks who were drawn to the topic of Rajiv Malhotra's new book when we established a custom audience.
On advertising platforms, a brief video commercial and digital display advertising for the book "Snakes in The Ganga 2.0" were displayed.
Our expert team kept an eye on and supervised their advertising campaigns.
This made it easier for plenty of people to find Rajiv Malhotra's book website.
Book Selling Campaigns Specially Strategised to Promote 'Snakes in The Ganga – Breaking India 2.0'
Facebook and Instagram's algorithms certainly make it challenging to reach new audiences, despite the fact that using relevant hashtags, working with others, and uploading compelling content will gradually get the book discovered. But it's simpler because of our platform expertise. We also decided to use paid advertising on social media sites to reach new audiences because there is a lot to do and little time with a new book. Instagram is owned by Facebook, so using Facebook ads to reach new audiences on both platforms is simple. We also used Google search and display ads for the campaigns. Made sure the advertisement and the caption stood out. To prevent visitors from simply glancing over sponsored content, our expert graphic designers kept the aesthetic appeal distinct from other sponsored content.
We administered in building a strong presence and awareness for Rajiv Malhotra's book 'Snakes in the Ganga – Breaking India 2.0' launch and India Tour. Our team put a lot of effort into making this event a huge success with their expertise in design, technical and marketing manner of a full-fledged successful marketing campaign for the book launch and India tour.
Our Digital Marketing Services for Authors programme is designed to help you reach a wider audience, regardless of your marketing budget or experience. We employ a tried-and-true strategy that will build buzz online, maybe lead to purchases, increase your exposure, and—most importantly—get you where you want to go without requiring you to invest valuable time in marketing operations. Having the appropriate information and resources is essential to your success as an author, regardless of whether you've written ten books or are just getting ready to publish your first. Fortunately, you have us on your side. To help your book receive the attention it deserves, Virtual Pebbles offers a number of marketing options.
If you've ever had a book published, you'll be aware that authors are expected to handle the majority of the marketing. Because of this, many self-published authors are compelled to give a significant amount of their time to selling those books rather than producing new ones. Professional book marketing services from Virtual Pebbles can help with that. You can hire us if you don't have the time to spend hours refining your own marketing plan. Virtual Pebbles will build up your campaigns and teach you the basics of marketing so you can advertise both this book and the one you publish after it with success. A strong marketing strategy should provide you with an easy-to-use structure for your promotional activities. We, as book marketers, will help you start implementing the plan or perhaps take over some "channels" on your behalf, depending on the extent of your collaboration with us.