Date: July 2022
Services we provided: Website development, Photoshoots, Video shoots, Motion Graphics.
Website: https://aarneeafoods.com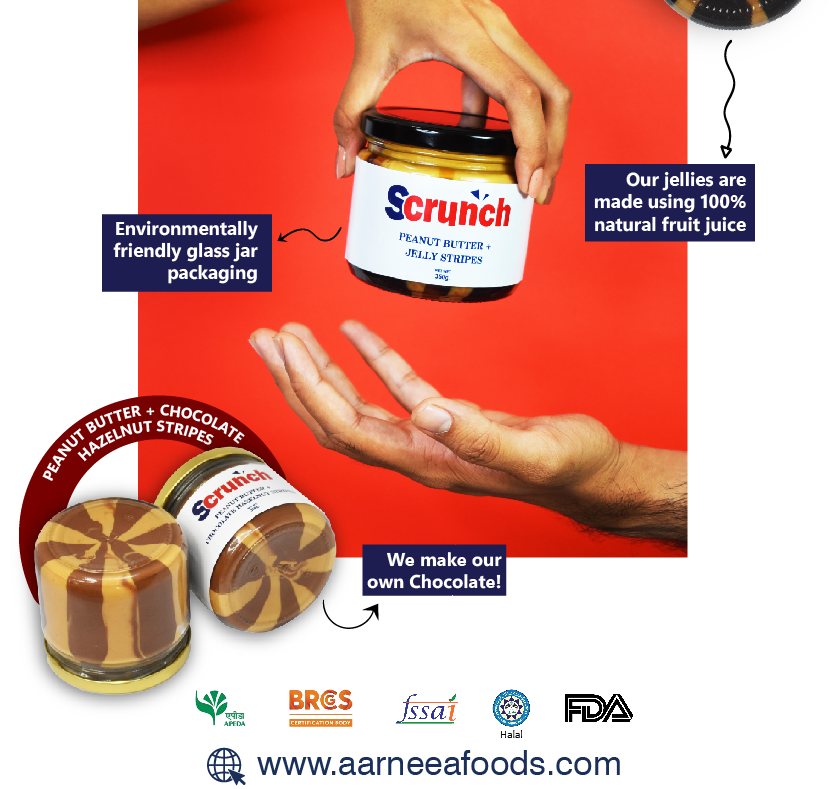 Aarneea Foods LLP is a peanut processing business that has received US FDA approval and BRC standard (British Retail Council) "A grade" certification. It was founded on the founder's desire to prepare and serve wholesome food to his family and other families who were having trouble meeting their nutritional needs on a standard dairy-based diet. The existence of their farms, which grow potatoes and groundnuts in various seasons in northern Gujarat, India, served as the primary impetus for founding Aarneea Foods' peanut processing operation. They are the leading manufacturer and seller of Peanut Butter, Roasted Blanched Peanuts, Flavoured Peanuts, Chocolate Spreads, Almond Butter, Raw peanuts, and Coated peanuts. Aarneea Food's peanuts include more protein, nutritious calories, and heart-healthy fats than other brands. Aarneea Foods' quality team takes great effort to make sure that all of our goods adhere to international certifications and standards. The Aarneea Foods team is committed to producing traditional peanut butter spreads, health-conscious choices, and crave-worthy combos that will make people and families joyful put them at peace, and feel powerful.
Their knowledgeable team is committed to ensuring total customer satisfaction through prompt, dependable product supply. Innovation, strategic planning, client focus, and the usage of cutting-edge technologies are all components of its thought process. Aarneea Food's product formulation and processing are their unique selling points. All nut-based items are roasted solely (no frying!). They don't use any artificial colours or additives for flavours (only use natural ingredients and spices). After being roasted and cooled, the peanuts go through blanching, which involves removing the skins using heat or water. The benefit of the heat treatment is that it gets rid of the peanut's bitter centre. The blanched peanuts are then processed in a grinding device with other necessary ingredients. The peanut butter is ready for packaging once it has cooled.
In their opinion, localities and communities should make an effort to improve. Aarneea ensured that this culture persisted in developing from the first kitchen to the table since choosing the best peanut has forever been a resident of the culture. Aarneea believes in "the happy and well health of one home at a time," realising the importance of wholesome meals in uniting individuals and families. Aarneea offers a wide range of items to satisfy a variety of interests in order to make this goal a reality.
How Virtual Pebbles Helped Aarneea Foods to reach their potential audience
Technology Services in Digital Marketing:
We are an evolving digital marketing agency offering 360-degree technology services in digital marketing to help your company accomplish its most challenging goals, from generating leads to growing your digital dreams. Whether you're searching for a digital marketing company to enhance your ranking in search results, revamp your website for a marketing overhaul, or update your content marketing strategy, our award-winning team and customised plans are the perfect fit.
We run campaigns that achieve specific goals as a digital advertising firm. We carefully develop and routinely improve campaigns to produce positive results. To display adverts and to message to your audiences and customers, digital advertising can be done on social media, professional media, email, search engines, mobile apps, and websites. You may deliver the exact message to the right audience at the right moment with this method of advertising. Boost your company's growth with Virtual Pebbles' technology services in digital marketing. We can assist your business in enhancing its brand awareness, revenue, sales, and other factors with our comprehensive approach to content strategy and technology services.
Website Design and Development
A brilliant web designer focuses on the appearance, functionality, and occasionally even the content of a website. The primary audience and brand of the website are both suited to an intuitive web design. Many websites adopt minimalist designs to avoid the appearance of extra information and functionality that can perplex or distract users. Since the foundation of a web designer's work is the capacity of a website to win and maintain the belief of the target audience, it is imperative to eliminate as many potential sources of user irritation as possible.
Any written, spoken, or visual content on a website is referred to as website content. Website content is the main factor in website traffic. The essential component of a robust website is producing engaging content and organising it for easy navigation. For search engines to react to the keywords entered during searches, the website content needs to be optimised. Due to the ever-expanding range of tools and technology available to our developers, the websites they produce are becoming more dynamic and engaging. The design is also essential for motivating consumers to return to websites frequently. A well-designed blog could draw visitors and provide them with helpful information.
Professional photoshoots and video shoots
In addition to attesting to the excellence of your product, expert product photography also represents the reliability of your brand's reputation. Professional product photography creates a decisive moment regarding whether your buyer will keep looking at your product and eventually make a purchase. People are easily sidetracked in the digital age we now live in. They don't have as much patience to read the language or the product descriptions when they're browsing through numerous internet platforms. Because of this, it's more important than ever for your brand to have eye-catching product photography that will capture customers' attention right away. All members of our skilled team of photographers and support personnel share a passion for artistic excellence. No portion of our process is outsourced; everything is completed in-house at Virtual Pebbles, where we can closely check the quality and work together to produce the best photographs. Our brand, product, and industry-specific photographers have had a wonderful experience working with our agency. Each image that our agency assigns to you is kind, professional, and experienced.
It is also evident that every year, more and more content marketers come to acknowledge the wealth of compelling advantages that come with including video content in their digital marketing plan. When done correctly, video content marketing can give you a significant advantage over your rivals by promoting a good or service, increasing client engagement, or extending their reach on social media. People enjoy viewing videos. That much is apparent. They're accessible, fun, and often educational. We'll start our list of advantages of video marketing with an enormous audience eager to learn more about your products and services. Marketers who choose not to use video content marketing should anticipate missing out on a sizable audience and losing money.
Working for Brands in Food Industry:
Visibility is just as crucial to success in this competitive corporate environment as is the standard of the product. Brands must persuade consumers that what they have to offer is distinctive and superior to that of their peers if they are to succeed. However, word-of-mouth publicity is no longer sufficient, unlike in the past. It's also essential to devote enough time and money to digital branding and advertising.
You must recognise, in particular, how heavily millennials are using digital platforms for networking and communication. Therefore, it's crucial not to underestimate how social media and digital media affect consumers. As a result, in order for firms in the food industry to grow, digital marketing is essential.
If you run a business in the food and beverage sector or are a food brand wanting to leverage digital marketing and advertising, you might feel a little out of place. But don't worry, we are here to assist you. Virtual Pebbles truly understands the need to get heard in the industry and is very enthusiastic about making your voice reach your potential audience. You get the most satisfactory possible outcomes from our end. Join us on a fantastic adventure to increase client interaction and strengthen your brand's position in the market. We click on the products that are advertised online for your target market because of their spectacular appearance and appeal.