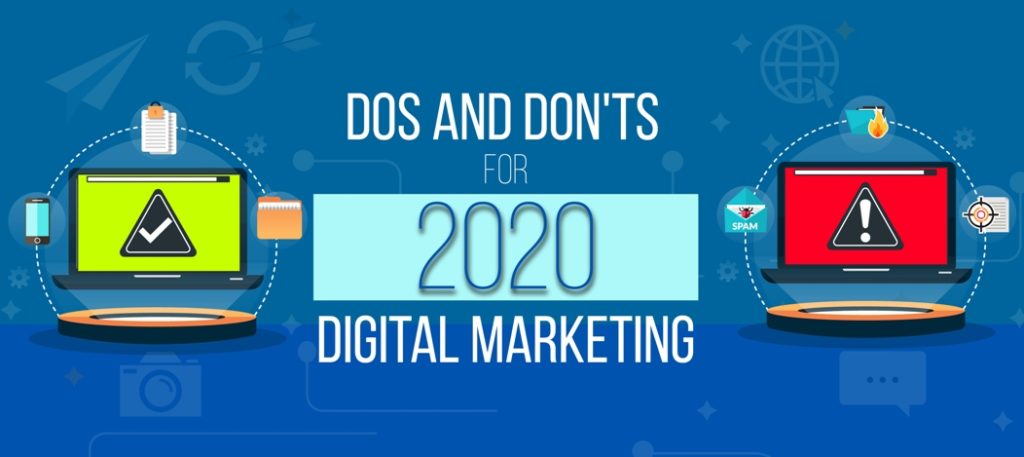 Since its beginning, Digital marketing has evolved significantly, and what succeeded a few years back may no longer work. Here are just a few main dos and don'ts for 2020 Digital marketing.
Do:
Invest in paid traffic.
You should always take organic traffic into consideration, but that's not supposed to stop you from scaling back things and gaining visibility by pay-per-click (PPC), social media marketing, and advertising.
Make it mobile-friendly.
Most Internet users use mobiles more than their laptops or desktops. Google has already started implementing its mobile-first index in the results pages of the search engine. Do everything you can to ensure that your Digital marketing strategy fits in with Smartphone technology so that your all form of creatives fit in with these.
Respect the privacy of customers
It is a privilege to have the mailing list database of your customers. Don't get involved in making earnings by selling email lists to any third party. As an owner of a business, you must value that and teach your team members the same thing.
Build a blog
A blog committed to the connectivity of your business and its values to the world is essential for Digital marketing. The blog is also important for the purpose of SEO. Use keyword analysis, social media comments, and surveys to identify the customers' queries and then use your blog to answer them.
Ask for professional help if required
To some, dreaming of new marketing tactics seems simple.
Every industry is different, and Digital marketing tactics will vary for everyone. Digital marketing can be challenging at times. You'll dramatically increase your chances of success by having an experienced hand guide. Never hesitate to ask for professional help.
Optimize for local and voice search.
Not all of your target markets today will type text in a search box to find what they need. More and more people are using voice search to ask a question to a virtual assistant like Siri, Alexa, or Cortana so be sure that your website is created for voice search with specific long tail keywords and phrases.
With increasing numbers of people using mobile devices to search for "near me" local businesses, local search optimization is also essential.
Stay updated.
Stay updated about technology awareness, your website content, blogs, and social networks. There's no point in having an online presence if you're not wary of the latest trends and you don't feed the information indefinitely.
Try to Get Listed on Other Websites
Referral traffic is a perfect way to broaden the reach of your audience online. Using local listing management tools, such as Moz Local, or Yext. Instead of using individual profiles on websites such as TripAdvisor and FourSquare, it is easier to list them on other online platforms. This, in turn, connects you with other industry leaders, thereby exponentially increasing the chances of your business growing.
Don't:
Don't overlook email marketing.
Email marketing may sometimes be outlined as old, but it's still delivering the best bang for your marketing bucks. Concentrate on creating engaging email campaigns with a clear business goal and a convincing business model for your customers.
Never compromise on quality with quantity.
Neither Google nor your customers put more value on how many blog posts you've got on your site. Both strive for content that is informative, and that offers real value. Consistency is important, but by bombarding them with low-quality content, you don't want to turn people away. Concentrate on developing high-quality content and see the benefits.
Don't focus only on text
Don't just concentrate on the text only, because a few people will possibly be involved in what you're trying to communicate. We live in a picture world, and thousands of audio-visual resources are there to build your Digital marketing campaign. Start including images and video content in your creatives. Please don't copy, especially when it's copyright covered.
Never use spam.
Spam may seem effective but there's nothing more frustrating for internet users (including you) than to skip ads and close pop-ups that obstruct the content you're searching for. Everyone will remove spam in their inbox as they clean the dust from their desks. Spam is the worst of all possible ways to do Digital marketing. We're all fearful of spams because we know the Internet is filled with viruses.